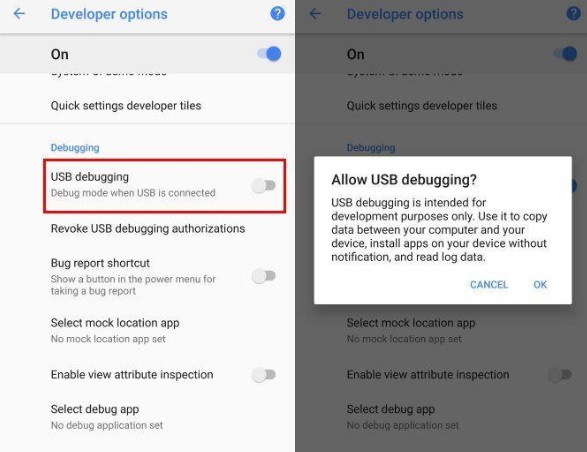 USB Debugging on Android devices may not be a common term to you. This is used for advanced developer options on Android devices. Users who have turned on the developer mode on their Android devices, can find the USB debugging menu.
What is the purpose of USB debugging?
The purpose of USB debugging is to ensure that you can flash your device, transfer any data from your Android phones to your PC and vice versa with no restrictions. Many a time, there are situations when the Android phone has suffered a data loss and requires restoration or repairing only via third party apps on desktop PCs. Or, you may need to transfer chats, text messages, retrieve deleted text messages from your Android phones using third party apps. In such scenarios, the Android operating system does not give permission to do so, unless you turn on the USB Debugging mode. Here, one important thing to keep in mind, is that, USB debugging is actually used to bridging a connection between the Android device to the Android Software Developer kit using USB connectivity. So, you should not fidget with these settings unless you are particular about your requirements.
As Android says, USB Debugging is intended for development purposes only. Use it to copy your data between your computer and your device, install apps on your device without notification and read log data.
Is it okay to enable USB Debugging On Your Android handset?
Enabling developer mode, or enabling USB debugging leaves your Android device in a vulnerable state. It provides access to a user to root the device, flash a factory image, use Android debugging bridge (ADB) and perform functions that involve risk. So, why Android has left the device open to such options? This is because, these are advanced developer options. People who are Android developers have a strong command over such things and they need these stuffs for their regular operations. in general, the developer mode is hidden and not available to users. To use the USB debugging feature, you have to manually enable the Developer options. But, if you are a normal user who knows nothing about Android development, you might get lost amid such settings and jeopardize your handset in a spree to experiment. So, it is advisable to curb your excitement of using these settings.
How can USB Debugging Harm Your Device?
As mentioned earlier, USB debugging leaves your phone in a vulnerable state. With USB debugging turned on, if you connect your device to any PC, it will get connected and can even transfer data automatically without even providing any notification for the same. Your child can connect the device to any computer and unintentionally create havoc. If you, by any chance, connect your Android handset to any virus-infected PC (which is a common thing in office computers, college computers, shared devices and public charging stations), then all malware programs, virus programs will get installed without your notice. Virus can also extract information, confidential user access tokens and other private stuffs from your phone with no inhibition.
So you now get an idea about USB debugging and can decide on yourself if it is safe to keep it turned 0n! If you want to turn off the developer options, click here