If you want to host email service for your domain with Google Apps, let me make you sure that Google doesn't provide the free Google Apps Plans any more. The service would cost you $5/user/month.
Many domain owners used to manage their domain email service via Gmail but it now seems like the users will have to move on to other providers to maintain the access to their mails. In the present scenario, there are many such providers and one of them is Microsoft's modern and shiny Outlook.com service.
The following tutorial will show how to set up an account for your domain for email service via Outlook.com
First of all you need to have a Microsoft account in advance. If you don't have an account, then sign up for an account at
https://signup.live.com

After completely setting up your account head over to https://domains.live.com and click on Get Started link under Custom Domains.

Enter the specific domain name for which you want to have Outlook email service and select the radio button which says Set up Outlook.com for my domain and click on Continue.
Click on "Accept" and on the next screen which comes and you will be showcased with a page with the DNS settings that you need to enable Outlook.com manage emails for your specific mentioned domain. DNS is the domain name system given to every website and also it helps us to browse the Internet by simply using the
domain name of the website. It consists of a collection of records of various entries for each specific domain present on the internet.The servers which maintain these kind of records are called DNS Servers.
Each domain has a specific MX Record. The MX record directs to the server that is reckoned to accept emails for that particular domain. This is the record that needs to be changed if you want Outlook.com to manage your email service instead of Google or any other provider that you were using formerly.
If you are unknown as to how to edit the DNS settings for your domain, move over to your domain registrar's website and their tech support will easily explain the process to you.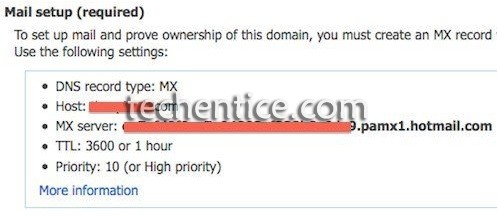 The MX Record is the most significant record and without that record, Outlook/hotmail cannot take in emails for your specific domain. To allow other mail servers to trust email arising from your domain, you are also encouraged to add a TXT record. The settings are on the same page under the heading "Server trust". Once the setting have been finalised, DNS systems all around the world are apprised of the alteration to your domain. This process take up a couple of hours to spread up throughout the internet. After a few hours, refresh the page and Outlook will auto-detect the DNS changes you have made earlier and lets the users to add users to the account.
If you want to add a CNAME record to your domain's DNS entry that will let you browse your own Outlook.com email by getting at a sub-domain of your domain, for example: email.domain.com, you can surely do so.