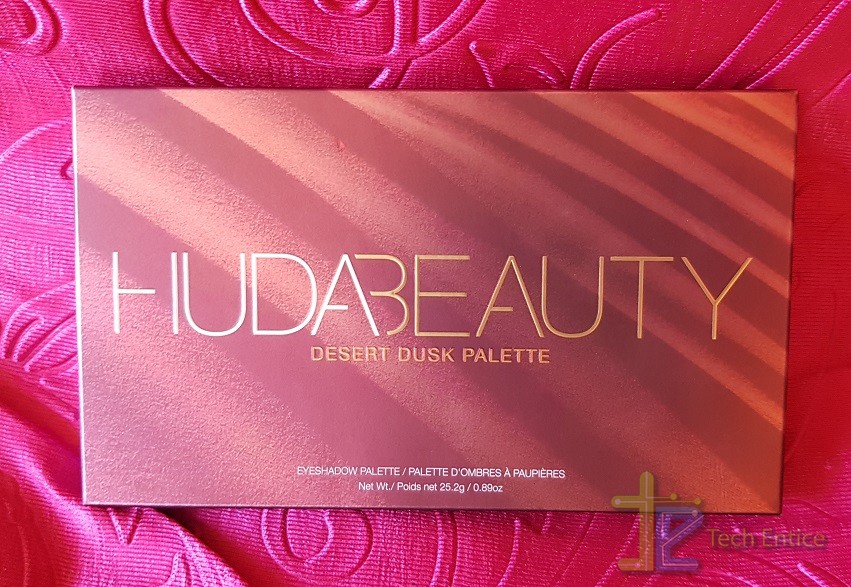 I got my Huda Beauty Desert Dusk Eyeshadow Palette very recently. I have read mixed reviews about it, but the gorgeous color shades were irresistible to me. So, without a second thought, I grabbed it. I have used it, and there are many things that I have loved about it, and there are certain things that disappointed me a bit. Overall, I loved the palette a lot and I am sharing my feedback with the best details possible.
Packaging And Design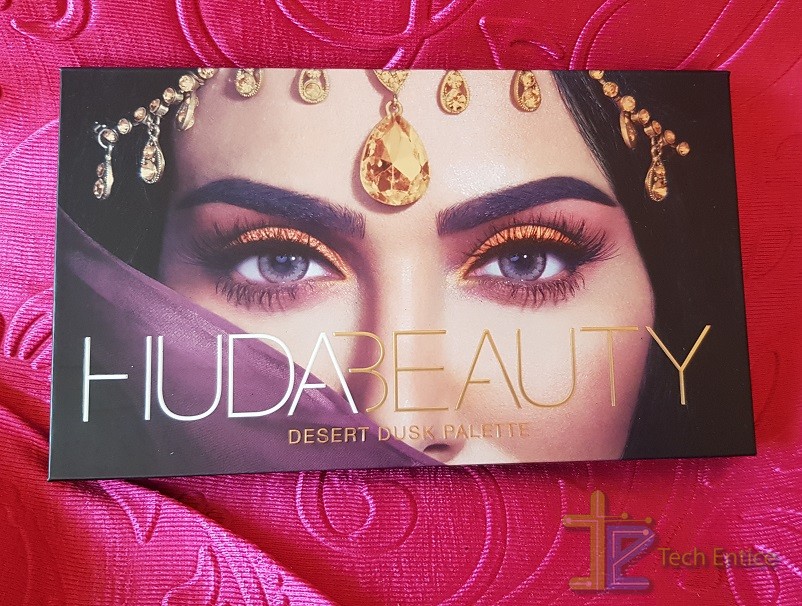 The packaging of this Huda Beauty Desert Dusk Eye Shadow Palette is as gorgeous as Huda Kattan herself. Well, I think you all know her. She is the top Instagram Influencer at present and has her own lineup of Beauty and Makeup products. Now coming back to the product, the outer packaging is very beautiful. A light shimmery desert sands image, with Huda Beauty shining in metallics. When I opened the paper box, I got to see the beautiful eye palette box. The gorgeous eyes of Huda will definitely give you major envy. The box is immenselt beautiful and it looks precious. The packaging is beautiful, gorgeous with a mystic touch. There is a very prominent and great quality mirror with a guard on it. Then there is a sheet which is translucent and it will protect the eyeshadows to a good extent. Every detail has been kept in mind while creating the palette. It feels good!
Colors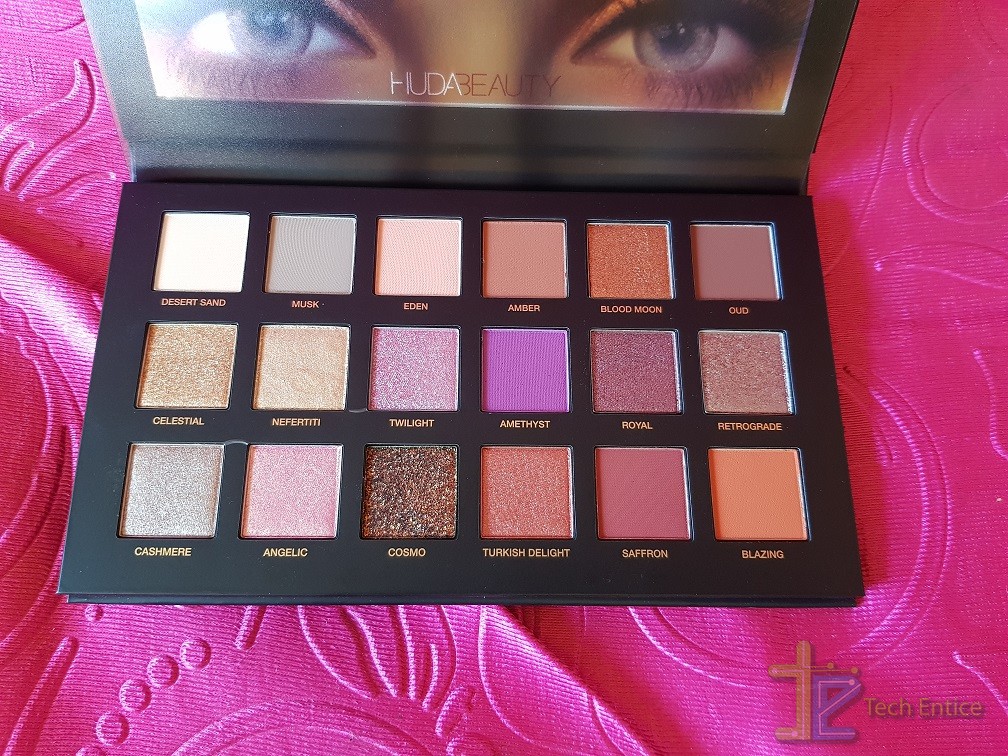 Now, the most important part of this review post. Huda Beauty Desert Dusk Eye Palette offers a great combination of mattes and shimmers. The shimmery colors outdid the mattes, here, for sure. The tones of the colors are on the warmer side. That said, the looks that you can flaunt with this palette are mostly shimmery and gorgeous. So, if you are fond of matte makeup only, or nude makeup, then this palette won't impress you that much. But, while doing makeup, I am quite open to experiments. So, I love both gloss and mattes. That's the reason I will adorn this palette. In the Desert Dusk palette, there are 10 shimmery shades and 8 matte shades. The names are given along with the shades. Have a look at the images. I have given swatches on my arm as well.
Swatches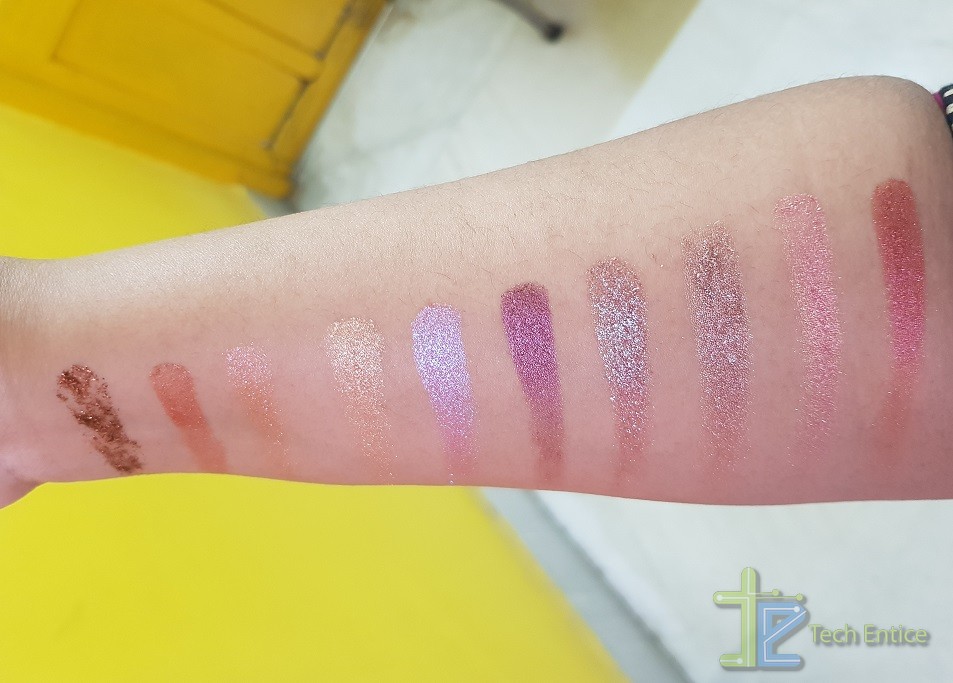 These swatches are of the shimmery tones. From the image, you can see that all the 9 shades are very smooth and has a buttery finish. The extreme left, the brownish copper gold shadow, named Cosmo, is not so smooth.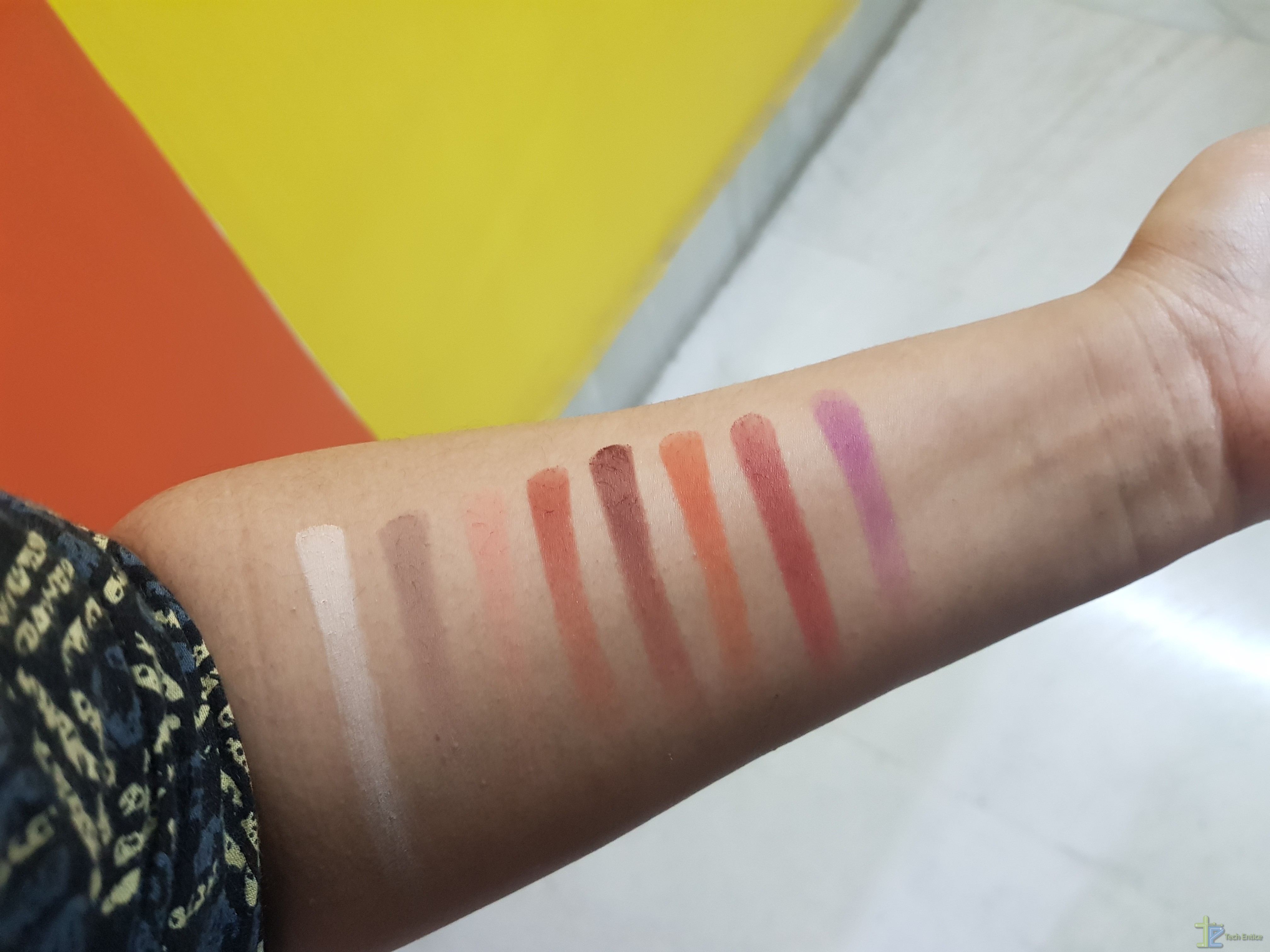 The mattes, even though underrated in this palette are amazing as well. The left most color, named Desert sand, can be used as the base shadow. So, it serves the purpose of setting powder as well. The matte tones are mostly earthy tones and you can find all these colors in a sunset at desert.
The pigments are pretty amazing for both the mattes and shimmers, except for the shade Cosmo, which I didn't like at all. One single dab of the brush takes out a generous amount of eyeshadow, which is a good property of any eyeshadow. It works smoothly. If your basic of applying eyeshadow is correct, then this palette will work wonder for you.
Final Take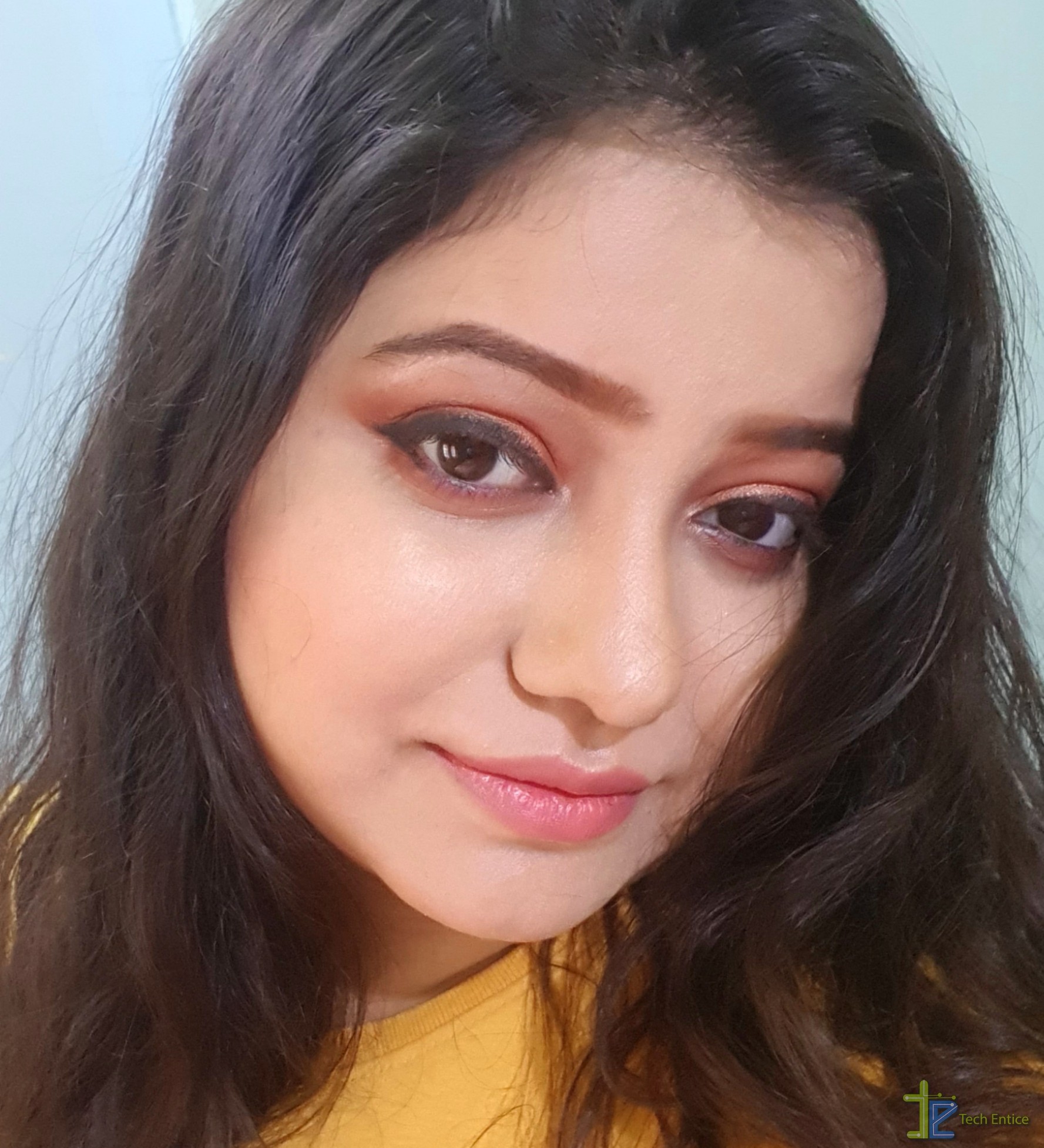 This is a quick try with the eye palette, which I did before sharing my review. There are two things, which I did not like about the palette. One is the shade Cosmo. It is grainy, and not very pigmented or smooth. It will not stay on your eye lids for long. If you plan to apply Cosmo, then make it a point to do your eye makeup before everything else, or your face will be all glittery with the fallouts. Quite annoying! the second thing, which is missing is a highlighter shade. There are 10 shimmery shades and not a single one to justify highlighting the brow bones. So, definitely the company could have worked on this to make it a complete palette. My look is very warm and soothing. I refrained from too much shimmers. Pardon my hair which was not set.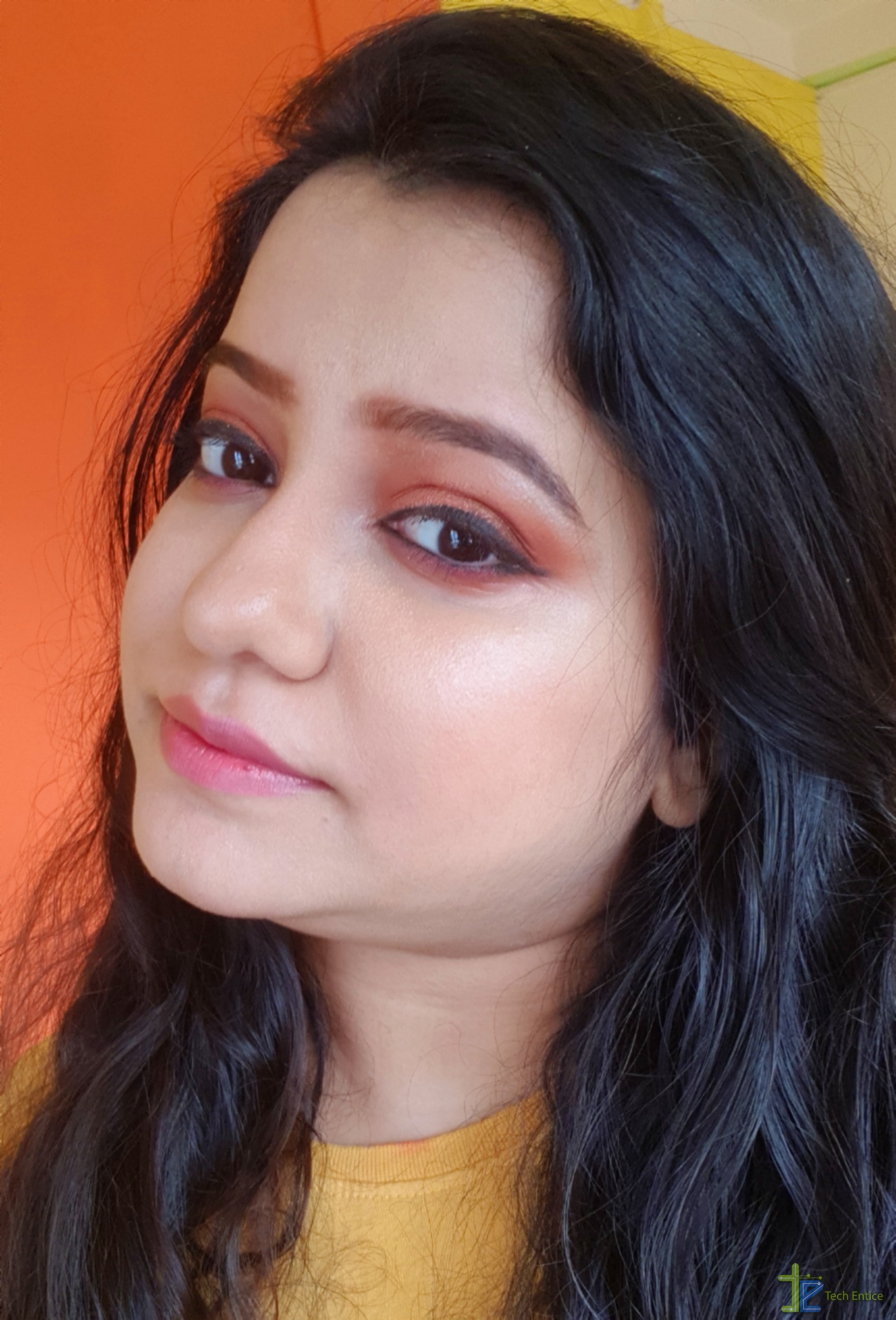 This is an honest review of Huda Beauty Desert Dusk Eye Palette. Hope you had a good time reading it!