Finally the wait has come to an end for the people who have wanted to lay their hands on NVIDIA's SHIELD portable game console. This week the company in a mail sent to all its customers who had pre-ordered the Android device stated that the shipments of the device would start off on 31st July.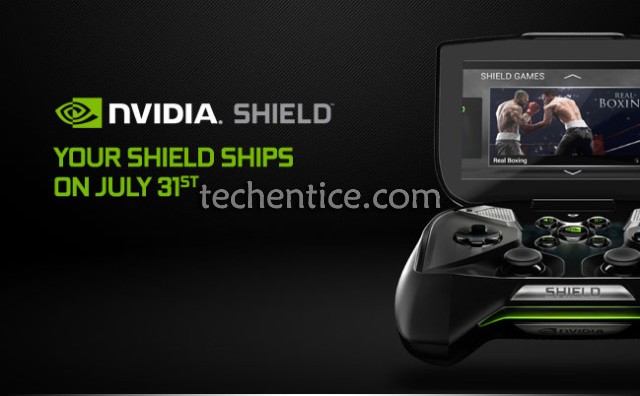 NVIDIA stormed the technology and gaming industries in January when it first declared the SHIELD Console and later said that the console's shipments would start off on 27th June. Nonetheless just before the date, the company declared that it had to make a very grueling decision to hold up the shipment of the SHIELD until sometime
in July. The post declared that the reason behind the postponement was due to a trouble they were facing with a third-party mechanical component but no other information was revealed about the flaw.
In their new mail dated 31st July, NVIDIA gave its customers who had pre-ordered the console a hint that whatever defects might have been detected in the console's production have been sorted out completely.
The statement said that "Our motto has always been to ship the everlasting product, so we made it sure by testing SHIELD in the extreme stringent conditions thereby testing its mechanical strength & quality assurance standards in the industry. We have built SHIELD because we have always loved playing games and we also hope that you all should enjoy as well."
Just a reminder for the new users who will be using this that the console has the company's latest mobile processor, Tegra 4 along with the most recent version of Android which signifies that it can be made to run games built for Google's mobile OS as well. Some of the games have developed some features for their betterment in SHIELD. The SHIELD consists of a 5-inch display which is attached to the game controller and also it can stream and play PC games via WiFi from a user's Steam
Library. The NVIDIA SHIELD has been priced at $299.