This is the android application for The Free Dictionary website. It's interesting and free of cost. This application is available in 14 languages like Greek, Norwegian, Dutch, Russian, Portuguese, Chinese, Arabic, Turkish and Polish. The best thing about this application is that it can be accessed in offline mode and the offline mode dictionaries have to be downloaded separately at the first time for future use.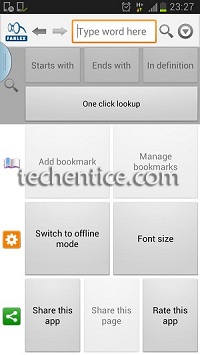 There is a search field where one types the word to know the meaning. Searching can be done in 4 ways- Starts with, Ends with, in definition, one click lookup. This means you can find word ending with specific letters. Other options are Add Bookmark, manage Bookmarks.
Then comes settings, where you can switch to offline mode and vice versa and change Font Size. You can share and rate the application.
The Homepage consists of 13 sections. These are:
1. Word of the Day – This section provides a new word everyday that will boost up your vocabulary.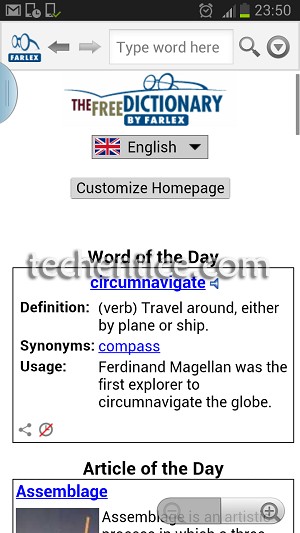 2. Article of the Day – This section gives a descriptive article on a particular topic every day. For e.g. in one article it presents a vivid description of a new kind of artwork called assemblage.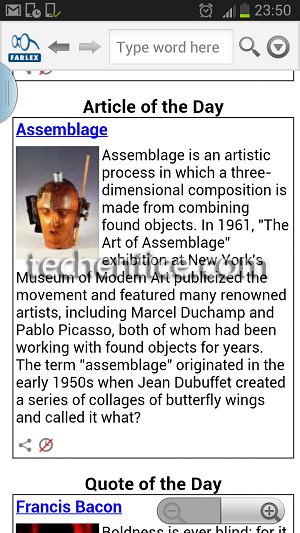 3. Quote of the Day – Famous quotations of eminent personalities are given.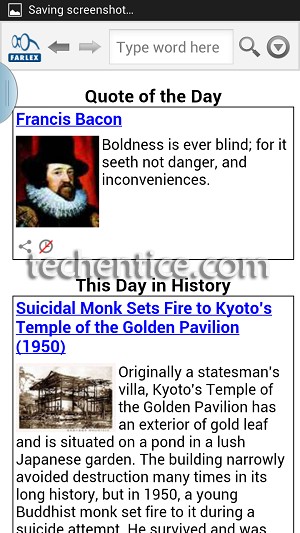 4. This Day in History – It is an interesting section which depicts a significant incident that took place on the same date, many years back and has been recorded in pages of history. This is indeed a good way to recapitulate those forgotten era.
5. Today's Birthday – You may share your birthday with a famous personality and Free Dictionary will let you know.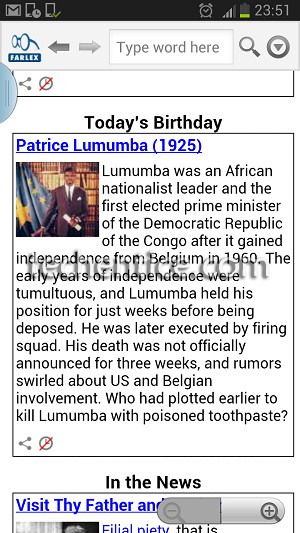 6. In the News – The News section is another beautiful aspect of this application that unfolds many social crisis and problems of contemporary time to keep you updated and awakened.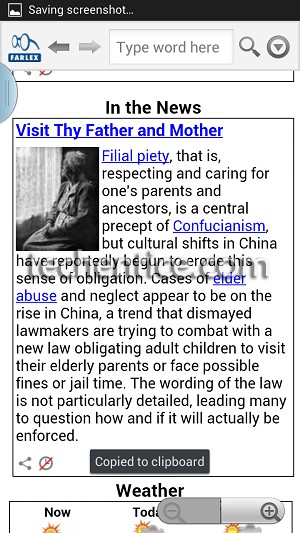 7. Weather – Weather report of different time of the day.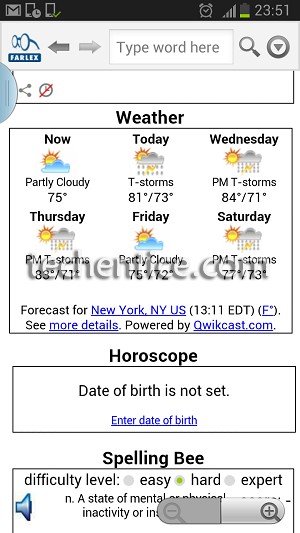 8. Hangman – Now comes the interactive session. Play Hangman.
9. Spelling Bee – A word quiz with some real tough words to crack and increase your score.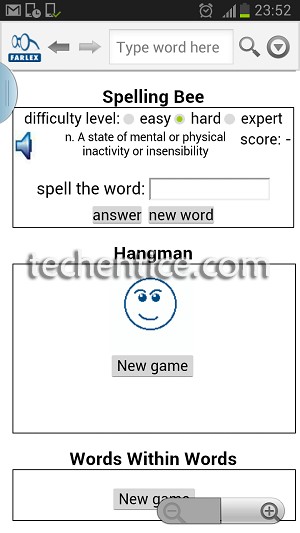 10. Words Within Words – Another game which is equally interesting.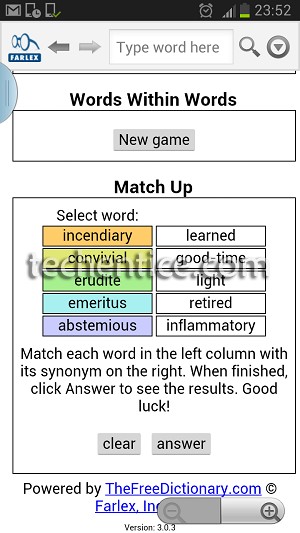 11. Horoscope – How the day is going to be lucky for you. Get to know a bit before.
12. Match Up – Another interactive game.
Customization of Home screen can reduce some contents that you do not wish to read. This online dictionary is really helpful. It also has a Pro version which can be bought that incudes some more features and the dictionary is more compact.