Google Cardboard is a virtual reality device that made its first appearance in the Google I/O keynote. In general all the persons attending the Google I/O keynote look forward to the goodies and gadgets giveaway at the end of the event but this time it was initially a "WTH" moment when the attendees were handed over cardboards. But soon it was made clear that Cardboard is a virtual reality delivery system that is nature friendly and reasonable. We spend a lot of money on gadgets and then the expenditure extends with the phone based headsets we purchase. If the same thing is available in such a low cost why not avail it?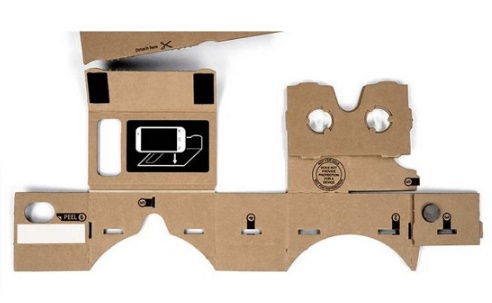 The Cardboard comes in a single big piece of cardboard with curvatures and holes at places. All you need to do is buy some cheap accessories along with scissors and glue and make it yourself. It's as simple as that. A corrugated sturdy cardboard is suitable mostly available in art shops and online or you can simply work out of your shoe box if it's hard enough. Lenses, magnets and Velcro are some of the other accessories you will have to purchase. The details is given in the image.
If you have an Android devive like a Nexus 5, then it will be great to make the Cardboard. Cardboard creator David Coz told in talk at Google I/O that the idea behind working with cardboard was that the headset can be assembled in 30 seconds with some inexpensive easily available materials. The cost will be as less as $2. This system is easy to made and every one can try making it but it is generally meant for developers who are working to help Google build its actual consumer virtual reality headset.
Play Store has a Cardboard app of size 188 MB which gives you a lot of demos to make wonderful stuffs.